What we do
St. Francis—St. Joseph House operates as an emergency, short term homeless shelter. We offer shelter to sixteen men, with most stays limited to eight weeks. Exceptions depend upon circumstances. We provide three meals a day. The men must have goals, work on those goals, and start a savings account within three weeks.
Staff Commitment – Our 7-man staff is a testament to the ability to makeover one's life. Each staff member is in recovery and formerly homeless; the majority are former prisoners. They lead by example and share their lives with the guests, encouraging them to overcome their addictions and banish sabotaging thoughts.
Spiritual Presence – We believe that people change people. Our Board of Trustees is actively involved in the day to day operations along with the Staff. We both lead by setting expectations and through example. Behavioral change is expected and there is a zero tolerance for alcohol and/or drugs. There is a spiritual force present in the House when all are trying to maintain their sobriety and working on their spiritual lives.
Success Rate – Within the 60-day guest stay, more than a third of our guests move onto a job, independent living, and a new sense of self. This success rate is exceptional—way above the national average of 6% to 8% for a shelter such as SFSJCWH. Our successful guests leave behind expectations that new guests find contagious. A number of former guests return to volunteer and help others at the House. We owe our success rate to diligent adherence to our spiritual values, namely the basic respect for each individual, all of whom are created in the likeness of God.
St. Francis—St. Joseph House is a house for men. We will not discriminate based on race, religion, or age. Any man will be considered for acceptance regardless of his background. We serve about 250 homeless men each year on a first come first served basis. Our capacity is 16, plus one bed reserved for emergency situations. A full-time House Manager provides limited case management on a non-professional basis in order to help connect guests to other professional service providers like the Human Services Department, Veterans Administration, and Social Security. Board members volunteer their time.
To inquire about becoming a Guest, stop by the House or contact .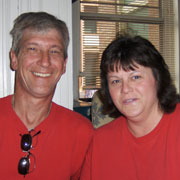 Events
Alcoholics Anonymous
Open Meeting
Tue & Thu
7:00 p.m.
Soup Kitchen
All are welcome
Tue-Thu-Sat
11:00 a.m.–1:00 p.m.
Start by doing what's necessary; then do what's possible; and suddenly you are doing the impossible.
St. Francis of Assisi