St. Francis / St. Joseph Catholic Worker
Winter 2010
IN THE IMAGE OF CHRIST
Father Mark Schmieder, Founder and Chairman of the Board of St. Francis-St. Joseph Catholic Worker House, died on Christmas Eve at age 69. Father Mark was a compassionate and selfless man who will be much missed.
In June 2009, Father Mark wrote "Most of all, what I owe my thanks to is God. It is prayer that is the final line as I have seen the results of prayer so often in my own life and in the ministry. I look at this pancreatic cancer as just another phase in my life and also as a gift: to get my priorities in order. So often we concerned and worried about the wrong things in life."
The Staff, Board of Trustees, and Catholic Worker House Guests extend
condolences to Father Mark's family and friends.
Father Mark Schmieder : A Man for Others
by Brennan Hill
The life of Fr. Mark is the story of a "man for others." His years have been devoted to service of others, especially the neediest among us, as priest, teacher, social activist, prison chaplain, and advocate for the homeless.
In 1954, at the tender age of 14, Mark left his home and loving family in Minster, Ohio to join the seminary and prepare to serve as a Catholic priest. While still a seminarian, Mark worked during the summer of 1965 at a Bible Center in "Over-the Rhine," which became a refuge for Appalachians migrating from the closed coal mining regions. Living among these folks was an eye-opener for young Mark and he felt a deep calling to serve those who struggled to make ends meet. He was more and more becoming concerned about the serious social problems of poverty, racism, hunger and militarism in this country.
Mark was ordained on May 28, 1966 and assigned to work in a parish and teach at Alter High School. He was well-prepared academically, with M.A.'s in philosophy and religious education. While teaching upper middle-class students, Mark also got caught up in the riots of 1967-68, and became more aware that there were two distinct societies in the United States. The same contrasts were evident to him in his next assignment, teaching at Springfield Catholic Central and serving as Chaplain at Wittenberg University. During this period, Mark's service with underprivileged youth and his participation in protests against the Vietnam War further radicalized him. From 1973-80 Mark continued his teaching and pastoring in Cincinnati, and then took a two-year leave to reflect and decide where he could best be of service to the dispossessed.
In 1980 Mark took a position which he says deeply shaped his personal life spiritually and emotionally. He accepted the position of Catholic Chaplain at Lebanon Correctional and worked there for 22 years. Fr. Mark not only personally ministered to thousands of prisoners, he also initiated the Kairos Prison Ministry, which has now spread to nine prisons in Ohio. He has trained over 1200 volunteers to work in this prison retreat program and tells many wonderful stories of conversions and life changes among numerous prisoners.
In 1990, Fr. Mark also took on the leadership of St. Francis-St. Joseph Catholic Worker House, a shelter for homeless men. For 20 years, he led this shelter, where 35% of the men move on to independent living. At the same time, Father coordinated Catholic ministry for the Hamilton County Jails and served as President of American Catholic Chaplains. In this capacity, he was invited by President Bush to help welcome Pope Benedict XVI to the White House. Mark had also been very active in Call to Action and Voice of the Faithful.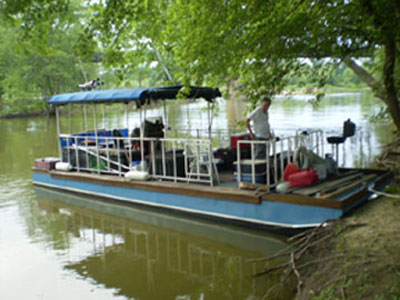 It was not all work for Fr. Mark. He enjoyed racket ball and canoeing and has paddled 1500 miles in the Northwest. Mark was proud of the award his pleasure boat received in the Tall Stacks Celebration of 1999!
We have been blessed to have Fr. Mark among us. We thank him for his love, friendship and heroic service of others.
Personal Tributes to Father Mark
I never considered my brother, Mark, much of a cook, but when he entertained he loved to serve this Portabella appetizer: Drizzle large portabella mushrooms with soy or teriyaki sauce and marinate for ½ hour. Grill mushrooms 5 minutes per side and top with grated cheese to melt. They were delicious and he would always say, "You're going love these!" So now whenever I make "Mark's Mushrooms" I can hear him say, "You're going to love these!"— Darlene Dieringer
"Father Mark said 'yes' to God at many levels."— Mike Harmon
"Since we met Father Mark two years ago, we have mysteriously discovered that we are surrounded by dozens of caring, compassionate people.— Michael & Robbie Dufek
"Mark was a tenacious guy; not just in the programs that he initiated or supported, but in all his life activities. He was the greatest brother that anyone could have. He leaves a huge empty place in our family.— Luke Schmieder
"Mark was a treasured friend. I miss his smile and humor in the face of life's daily challenges. I am thankful for his example of steadfast determination to bring hope and healing to the survivors of abuse. Father Mark was a courageous advocate for accountability, transparency, justice, equality and dialogue within our Church community.— Kathy Weyer
"Father Mark will stand in my memory for what one of Jesus' priests should be: prayerful, fun-loving, compassionate, dedicated to justice for all, and deeply concerned for the poor and the outcast. "An oyster opens his mouth to swallow one drop. Now there's a pearl. A vagrant wanders empty ruins. Suddenly he's wealthy." The Sufi poet Rumi.— Brennan Hill
Mark: Hunger Walk, PaddleFest, Christmas Carols-friend-River Captain, Papal invitee, brother—man—Catholic Worker House, Prison Chaplain, Devoted Activist—inspiration… the laugh, the face, the belief system—personal saint. Pray for us.— Steve & Joyce Kiernan
Mark inspired me by always being a gentle crusader. Mark clearly stated his position on various issues, but was never overbearing, affirming in his position. — Bob Busum
Father Mark… What can you say?… Doer… Giver… Selfless and admired by all who knew him!!! I guess you can call that "Saint"!!! I'm sure he will be missed, mostly by the people that needed him, but his good work will go on through his friends who are dedicated to what he believed in.— Jack & Marie Eiting
Last summer, as part of an awareness fund raiser, Connections planted a flock of flamingos in Mark's yard. He caught us as we were removing them and he was delighted and jovial as we talked "flamingo." It was the first time I had met him and in that brief encounter his gentle and open spirit was evident.— Rebecca Born
Mark's enthusiasm and glee in a good plan were infectious. His openness to serving his fellow man in a humble, unassuming way was impressive. His determination to speak truth to those he felt needed to hear it (despite the repercussions) was courageous and admirable. He will be missed!— Christi Eisenberg
I was 14 months older than Mark. In our youth we were servers together for the daily Mass for visiting priests. Our parents' home was less than a half-block from church, so it was not a problem to be tasked for that chore.

I remember when we were about ages 10 and 11, Mark and I shared a morning paper route together; we had 105 customers. Mark had the northern half of our hometown and I had the southern half. We had to rise early about 4:00 a.m. in order to have the delivery finished before school started at 8:00 a.m. And, in the wintertime, the paper delivery was a nightmare for both of us!

Later on in life, Mark joined me on several trips to canoe wild rivers in the Yukon and the Northwest Territories. Mark became an expert canoeist.

In the past ten years, we were together almost two to three times a week. I helped Mark 'prep' his boat while it was in dry-dock so it would be 'sea-worthy' for his Ohio River excursions in the summer. We laughed while we worked together, recounting funny situations we had personally experienced.

Mark was a wonderful brother. Like a good friend said to me not long ago… 'I will miss his laughter. I will miss his genuine smile and listening heart. I will dearly miss Mark.' And so will I.

— Carl Schmieder
For any project I did at the House, Mark would always ask, "What is your backup plan?"— Kevin Staigl
We have all seen the bumper sticker WWJD, "What would Jesus do?" Father Mark had no problem responding to that question; he lived a Jesus life in everything he did. "Whatever you do for the least of my brethren, you have done for me" was his mantra. We can only hope that the Good Lord will allow Mark to return as our guardian angel and help us perpetuate his teachings.— Don and Mary Dufek
Of anyone I know, the closest to whom I think Jesus would be like today is Father Mark.— Fran Harmon
Father Mark's favorite expressions,
from the SFSJ staff:
"How's your world?" … Karl Fields
"First impressions are lasting impressions." … Keith Waller
"Let's pray for the Kingdom." … Ron Brown
"Just want you to get yourself together." … Ted Lewis